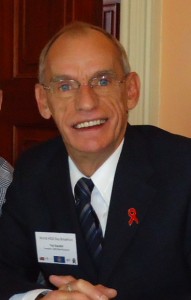 It is with heavy hearts that we announce the passing of Ted Gaudet. There are no words to truly describe the amazing leader that Ted was, and the countless lives he touched by his sheer will and determination to better the lives of people living with and affected by HIV/AIDS at the local, national, and international level.
Ted's leadership in the HIV/AIDS community began with AIDS New Brunswick in 1994, and from the beginning he has been a force to be reckoned with. Ted provided a voice and a face to an invisible community, and worked tirelessly advocating for the rights and wellbeing of people living with, and those affected by HIV/AIDS at the local, national, and international level. This work is exemplified through his involvement with AIDS New Brunswick's Board of Directors; the Health and Wellness Committee of AIDS New Brunswick; the Global Network of People living with HIV/AIDS (GNP+); the Canadian AIDS Society; and innumerable other projects and committees.
Ted's efforts did not go unnoticed, and he was the recipient of many awards of recognition including:
2001 – United Nations International Year of the Volunteer Award
2002 – Queens Golden Jubilee Medal for Community Service
2008 – AIDS New Brunswick Lifetime Achievement Award
2010 – Fredericton Unsung Hero Award
2014 – Canadian AIDS Society Leadership Award
2014 – The AIDS Saint John Daniel Clowes Award
These recognitions are a testament to his drive to improve the lives of those living with and affected by HIV/AIDS.
Ted will be truly missed.
Please feel free to leave your comments below.