In the wake of the recent ruling handed down by the Supreme Court of Canada that allows Insite – Supervised Injection Site to continue operating, I feel that it is important to talk about exactly what facilities like Insite actually do. While Fredericton does not have a supervised injection site, it does have a Needle Exchange Programme. In 1999, the Fredericton Police Department announced that they wanted to start a Harm Reduction Campaign as a means of addressing the large number of used needles being left out in public, particularly on the waterfront. A group of invested community partners answered this call, and within a year the Fredericton Needle Exchange Programme (NEP) was born.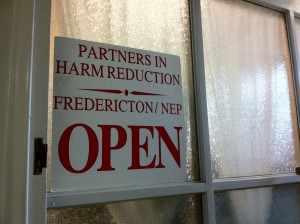 Since 1999, the NEP has grown in almost every way possible. We see more people, we see them more frequently, we provide them with more harm reduction materials, and our ratio of Needles In/Needles Out keeps growing. For example, in 1999 The NEP distributed 1,600 clean needles and brought in 3,000. In 2010 the NEP distributed 76,644 clean needles and brought in 44,565 used needles.
Currently, for the fiscal year (April 1st – March 31) the Fredericton NEP has distributed 46,170 clean needles and has brought back 47,461 used needles. We are very proud of this return rate.
The NEP distributes clean injection equipment to people who inject drugs, but that is far from the only impact we have on the community. We are in a unique position to reach a population of people that many view as an 'other'. This access provides us with opportunities to help people access services and resources that they may not have been able to access otherwise. We can serve as an entry point for clients to access Detox and Addiction Services. We are able to refer clients to health professionals when they need help. We can provide them with information about housing and community kitchens and food banks. But most importantly, we provide a safe space for people to come and feel human. Not judged, not looked down upon. Human.
The following video is what a person might encounter if they were in need of our services. Due to confidentiality, this film was made with myself and a volunteer. Enjoy!