In Canada approximately 25% of those living with HIV are unaware of their status. The spread of sexually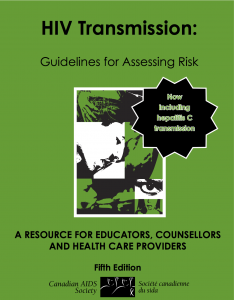 transmitted or blood borne infections (STBBI) happens most often when people are unaware of their or their partner's status and do not take steps to protect themselves.
Testing is the only way to know whether or not a person is living with a STBBI. To learn about how HIV and Hepatitis C are transmitted please click on The Canadian AIDS Society's HIV Transmission: Guidelines for Assessing Risk (green book) on the right. ->
Checkout our Testing Map to find a testing site near you. Please note: The locations listed on the testing map are either private clinics, or Public Health Sexual Health Clinics, and may have certain criteria about who, when, and how they test. Testing can also be requested through a family doctor.
Testing is available free of charge with a valid NB Medicare Card.
Testing for STBBI's is done through blood work, urine test or vaginal or anal swabs.
HIV
Hepatitis C
Syphilis
Gonorrhea

Urine screen/vaginal or anal swab

Chlamydia

Urine screen/vaginal or anal swab
Many STBBI's have what's known as a window period. This means that there is a specific amount of time from when a person thinks they might have been exposed to an STBBI to when they can be tested and know for sure whether or not there is an infection. Window periods can change depending upon what kind of test is being administered, and advancements in testing technology. Be sure to ask the person administering your test about the window period.
Many times health care professionals will test a person immediately, but advise them to come back to be tested again once they are outside the window period. After the test has performed it can take up to a couple of weeks before the results come in. Again this can change, so be sure to ask how long it takes for results to come back.
To learn more about STBBI's check out our Education section.